reviews
Already got this case? We want to hear from you! Share your experience with fans by leaving a review.
Customer Reviews
WILLIAM
Australia
03/01/2020
BEST FITBIT VERSA 2 CASE EVER!
The case is really good and definitely protects the watch well. The only wish I have is that they should include a screen protector in the package. I have compared many other Fitbit versa 2 cases and this is the best by far. If you own a versa 2 this is the ultimate case.
Dalton N.
United States
01/17/2020
Fitbit Versa 2 Unicorn Beetle Pro Rugged Case
This case is awesome and fits very well. It is durable and holds my fitbit in place.
George M.
United States
01/16/2020
Great product
I purchased this item due to my occupation and wanted to be able to wear my versa 2 while working without the worry of damaging it. I love it! It's rugged and provides the protection. If there is one thing on the downside is I had to purchase a face protector shield separately. Would be nice to get all in one package. Overall great investment to protect my Fitbit versa 2 investment!!!!
Larry C.
United States
01/13/2020
Great case
Looks good and works well.
Matthieu P.
France
01/13/2020
Very good.
Great quality. Enlarges the watch as expected but did still surprisingly comfy, even on a small wrist. I really like the tactical look it gives. My only complaint is the lack of a built-in protective screen, a plastic one at least. Description said the raised corners were designed to preserve screen from damages (maybe for scratches but be careful for shards and center impacts). At least it's not less than a G-shock. Otherwise very satisfied with my purchase.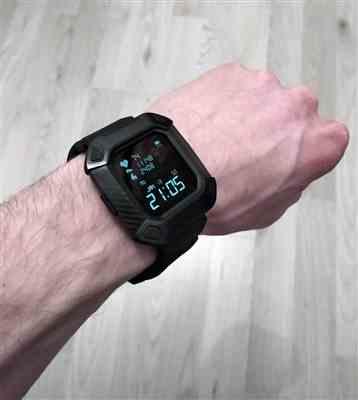 ---